Enzymatics T4 DNA Ligase(L6030-HC-L)超低价现货促销
作者:默瑞 发布时间:2016-12-20 点击次数:4031
 Enzymatics is a leading producer of reagents, kits, and assays that enable our customers worldwide to transform patient diagnosis, treatment, and life science research. Our business units include: Reagents, Supply Chain Solutions, Applied Science.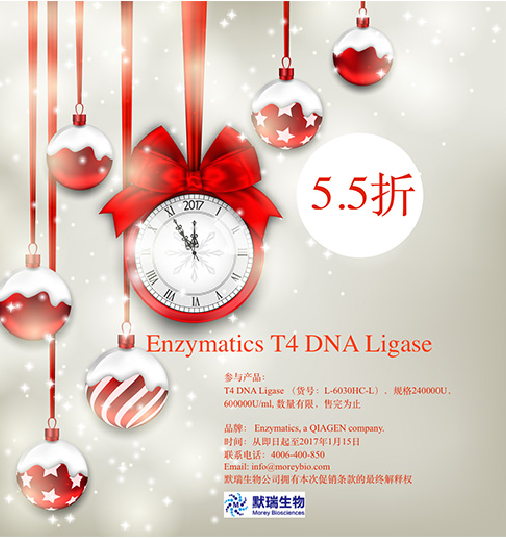 Our passion for quality, responsiveness, and flexibility is catalyzing the genomic healthcare revolution.
  Enzymatics: Catalyzing the Genomics Healthcare Revolution
  The Enzymatics story starts in 2005 when Steve Picone and Chris Benoit were production scientists at a major molecular biology reagents company. They realized that there was an emerging need in the market for large quantities of ultra-high purity enzymes produced consistently, under a rigorous quality system, and offered for sale at a very low price point. The technology driving these demands was high-throughput DNA sequencing, which utilizes enzymes to translate a DNA sequence into searchable data. At that time, sequencing was hardly high-throughput as it cost over $10M and took months to decode the sequence of a single human genome. Steve and Chris recognized the potential of DNA sequencing to revolutionize medicine, and concluded that they could uniquely meet this new set of requirements and drive down the cost of sequencing. They started Enzymatics with the express purpose of eliminating the cost of sequencing as a barrier to adoption in the clinical setting. The plan to achieve this was to focus on high quality, well-controlled production, the development of a clinically-aligned quality system, treating every customer as a partner, and redefining the way by which reagents are priced.
  Significant Reduction in Cost of Sequencing
  At Enzymatics, we strive to constantly challenge the status quo. If we look at a recent analysis done by the National Institutes of Health on the average price to sequence a human genome over time, it is clear that in 2007, the cost of sequencing began to drop precipitously. Although the factors responsible for this acceleration towards affordable sequencing are numerous, Enzymatics was part of that transformation. In fact, the head of our scientific advisory board, Dr. George Church, a thought leader in sequencing, has noted that Enzymatics has, indeed, been a powerful catalyst in the democratization of sequencing.
  A New Era in Healthcare
  As a result of this massive and continual reduction in the cost of sequencing, an entirely new industry has emerged that is leveraging the power of genetic information to diagnose and treat human disease. Enzymatics has been an enabling factor in the birth of this new segment of nucleic acid-based diagnostics, and we remain passionately committed to supporting the companies whose genomic technologies will revolutionize personalized healthcare.
  Catalyzing the Genomic Healthcare Revolution
  In 2006, when Enzymatics started, the concept was to enable "better, faster, cheaper" sequencing by focusing on the design and production of the world's best molecular biology enzymes. Today our products underpin over 80% of the sequencing reactions that are run around the globe, and we still do business with not only our very first customer, but nearly every other company with whom we've partnered.